*Please read the confirmation details carefully before ordering.

Reception starts from 12/15!
School bag remake online ordering event
Due to limited quantity, acceptance will end as soon as the predetermined order quantity is reached.

▽Questions/Inquiries▽
Please feel free to contact us via chat on the top page.


他の色も見る
In stock
About delivery time and shipping charges

・Shipping date for in-stock items is usually within 2-3 business days <br/>Products made to order are usually within 10 business days <br/>We apologize for the inconvenience.・Shipping fees
Free shipping on orders over 19,800 yen (tax included)
Click here for regional shipping charges for orders below 19,800 yen (tax included)
Regular price
Sale price
¥14,300
Unit price
per
Sale
Sold out
About leather materials

affordance usesoriginal madeinJapan cowhide leather made in collaboration with tanners (craftsmen who turn hides into leather) in Tatsuno City, Hyogo Prefecture.
We want to convey the quality of Japanese cowhide leather, so we are particular about the color and texture, so each piece will have a slightly different finish. Since cowhide is a natural material that is durable and can be used for a long time, there are individual differences in wrinkles and color tone. Color may fade due to friction or water exposure.
ギフト包装について

簡易包装ではありますが、無料にてラッピングいたします。ご希望の場合はカート備考欄に『ギフト包装希望』とご指示ください。
share
View full details
12/15~1/7 Reception school bag remake online ordering event
Due to limited quantity, acceptance will end as soon as the predetermined order quantity is reached.

"I can't bear to throw away my keepsakes...but they're taking up space."
"I want to remake it, but I don't know which one to do..."
For those of you who are thinking, ``I don't have time to go to the workshop, but if I can order online, I might consider remaking my school bag.''
Why not take this opportunity to turn your beloved school bag into something you can use?
For those considering school bag remake
affordance's school bag remake started when a neighbor came to visit our workshop. Affordance's leather craftsmen will carefully remake the school bags that you have cherished and are filled with many memories.
At this online order event, you can select and order your favorite remake set. You can check the product page details for each remake set.
For past articles on school bag remakes, please refer to the school diary's school bag remake page . Or check the latest information on Instagram @affordance_remake .
For any other questions or inquiries, please use the chat form on the top page. Or please feel free to contact us using the inquiry form .
When ordering, please read the confirmation information carefully.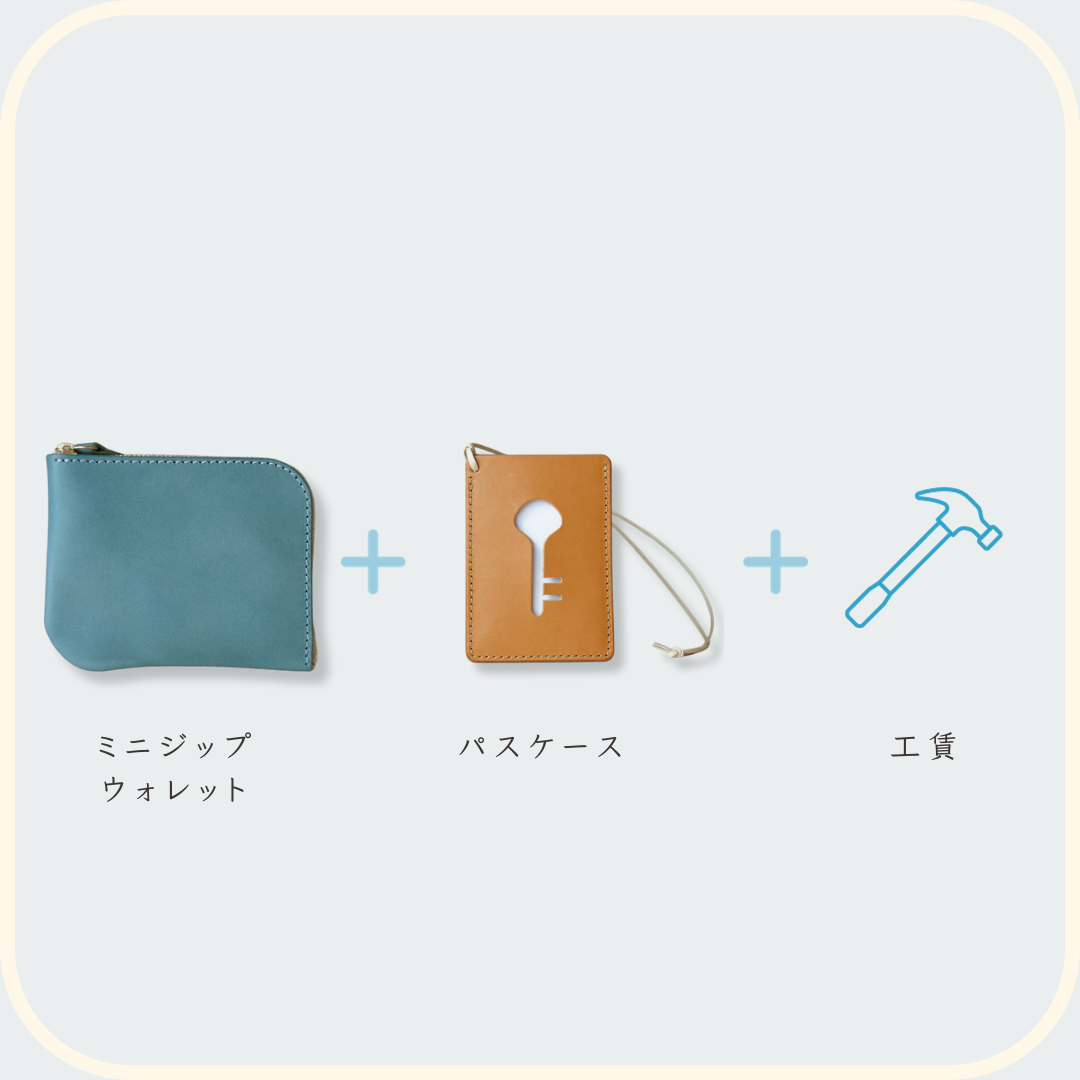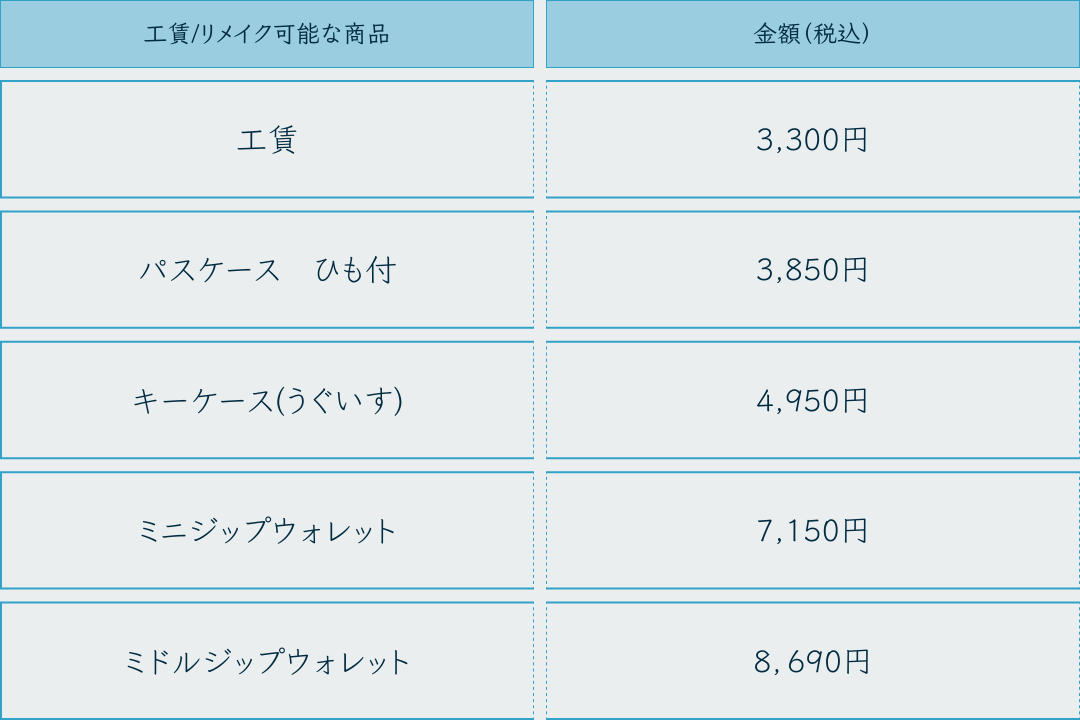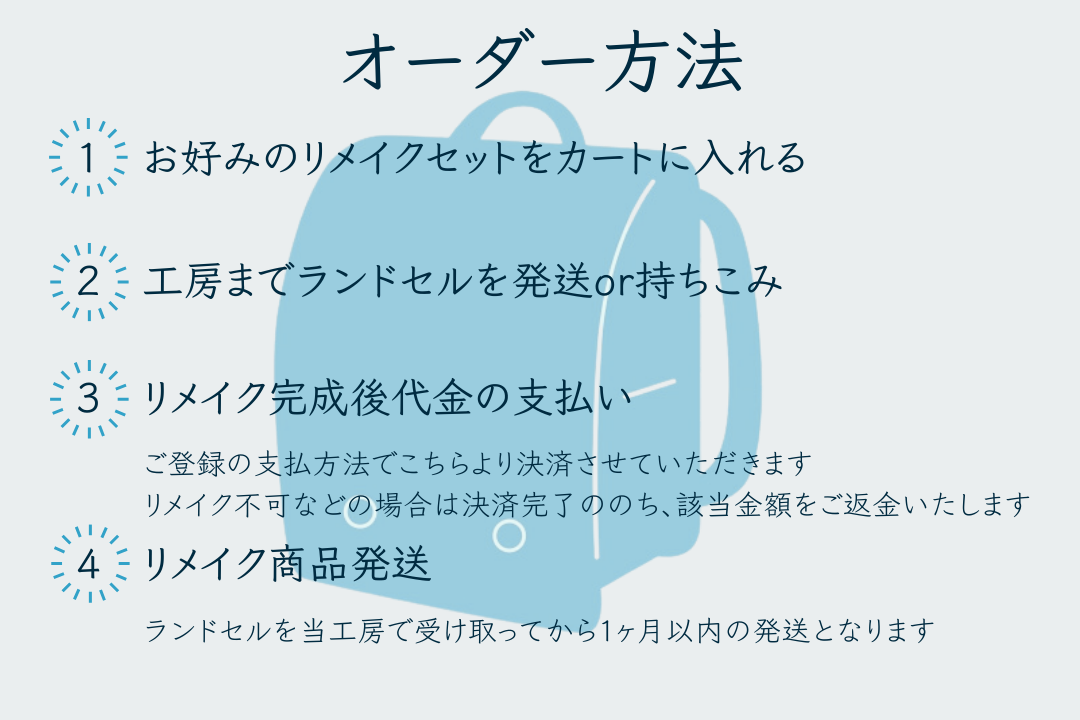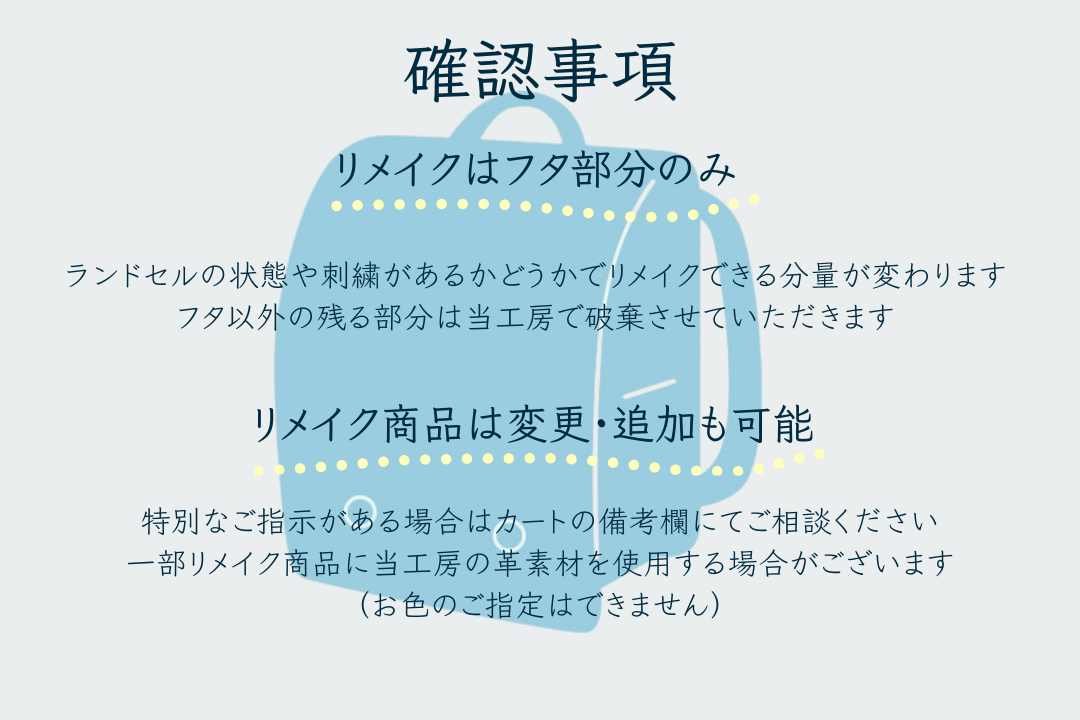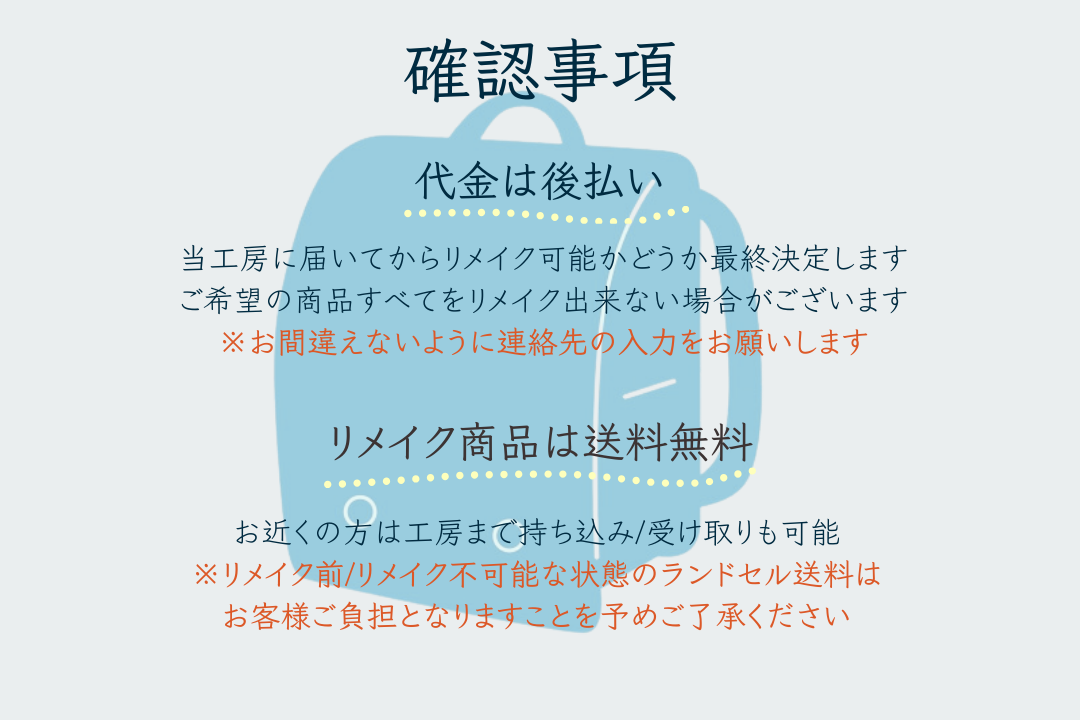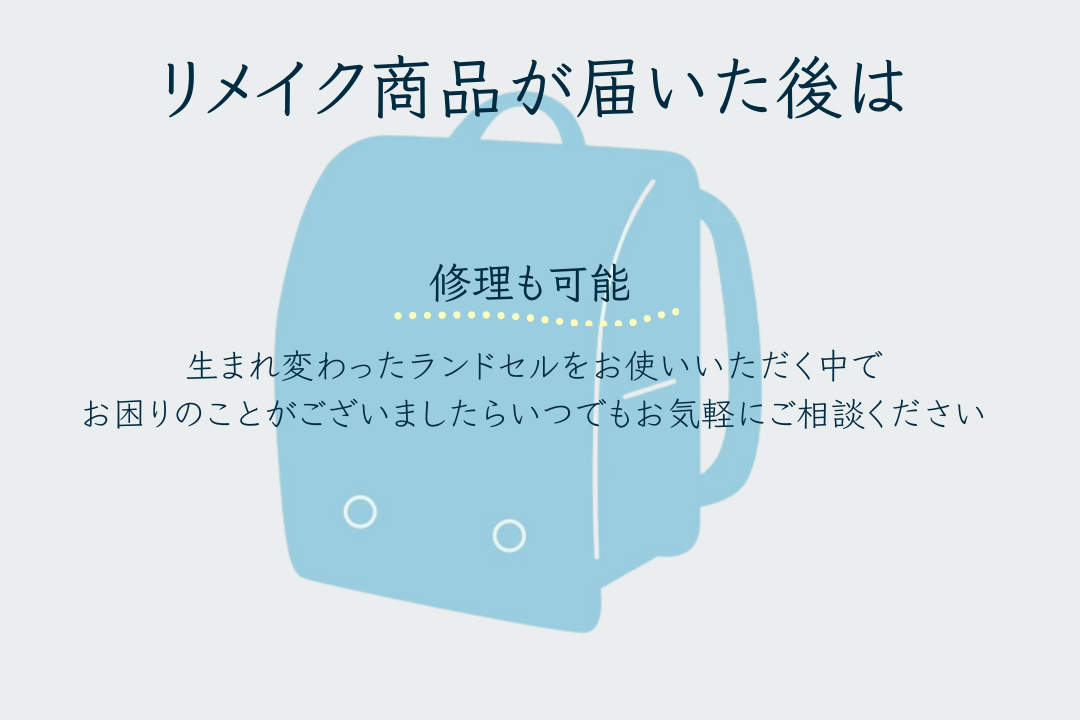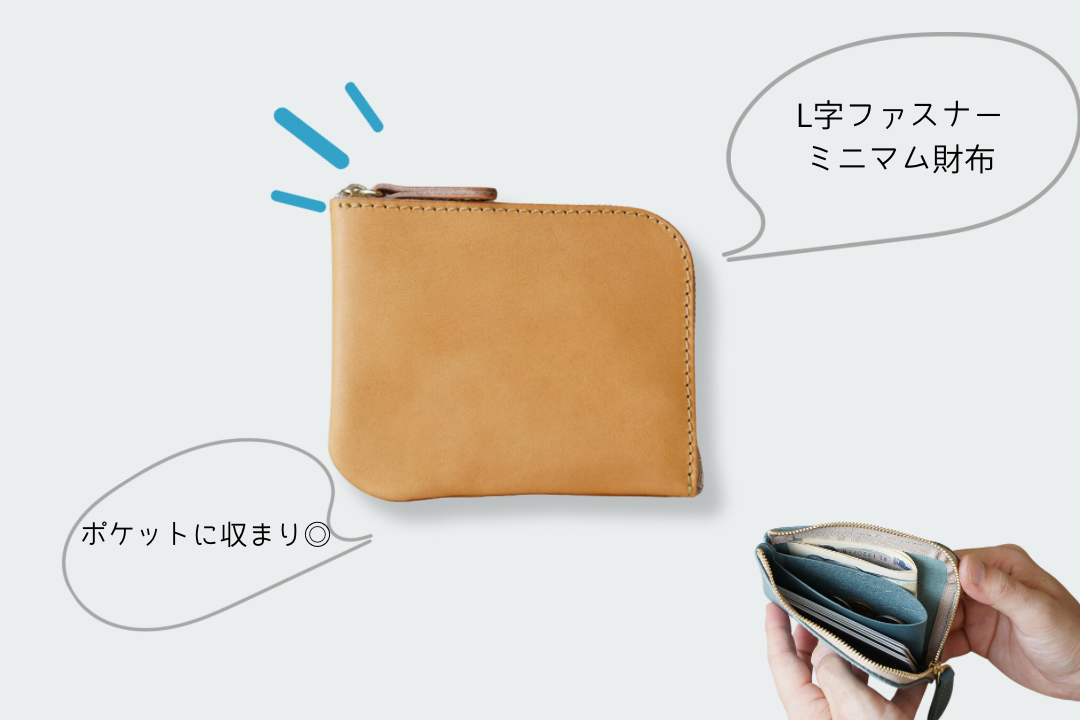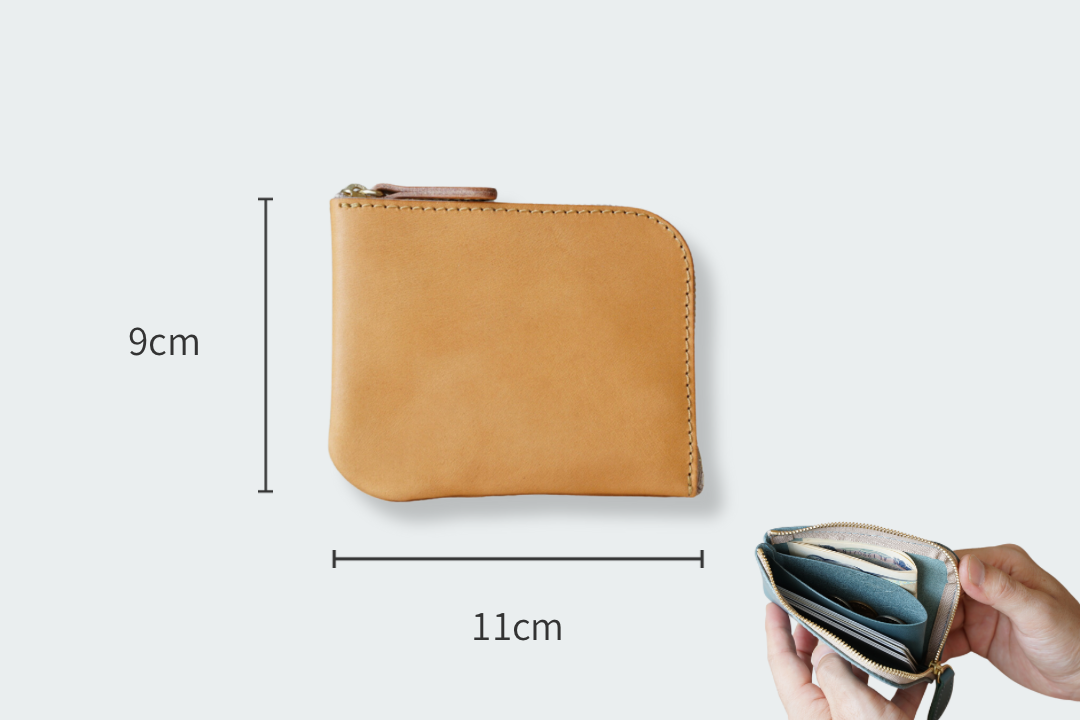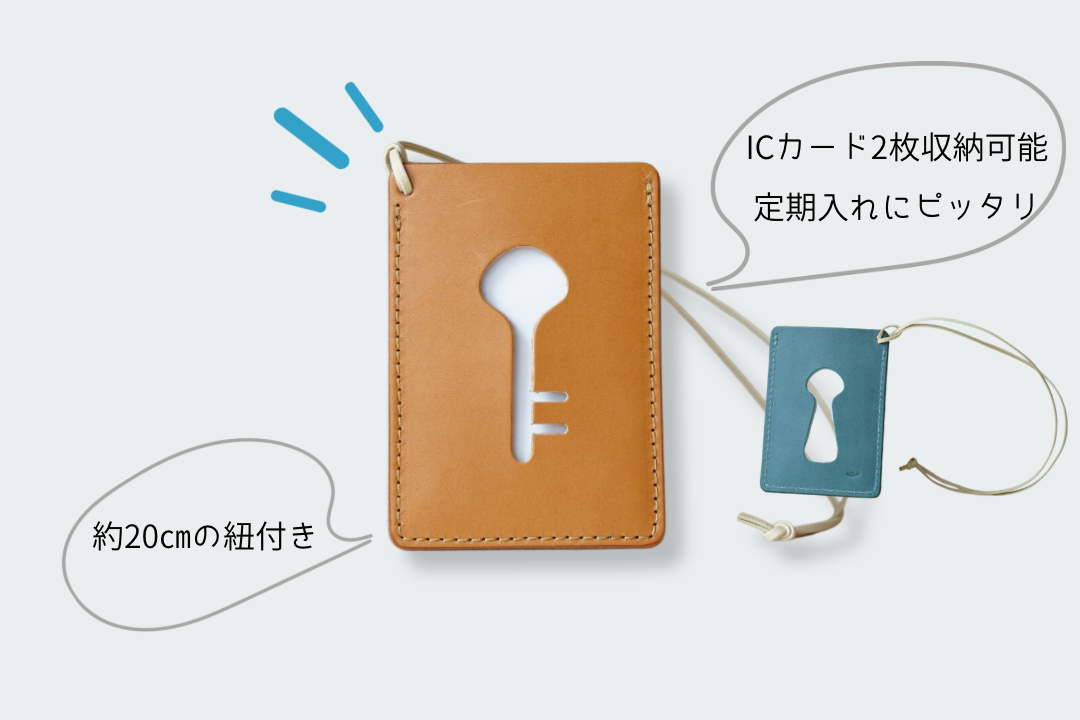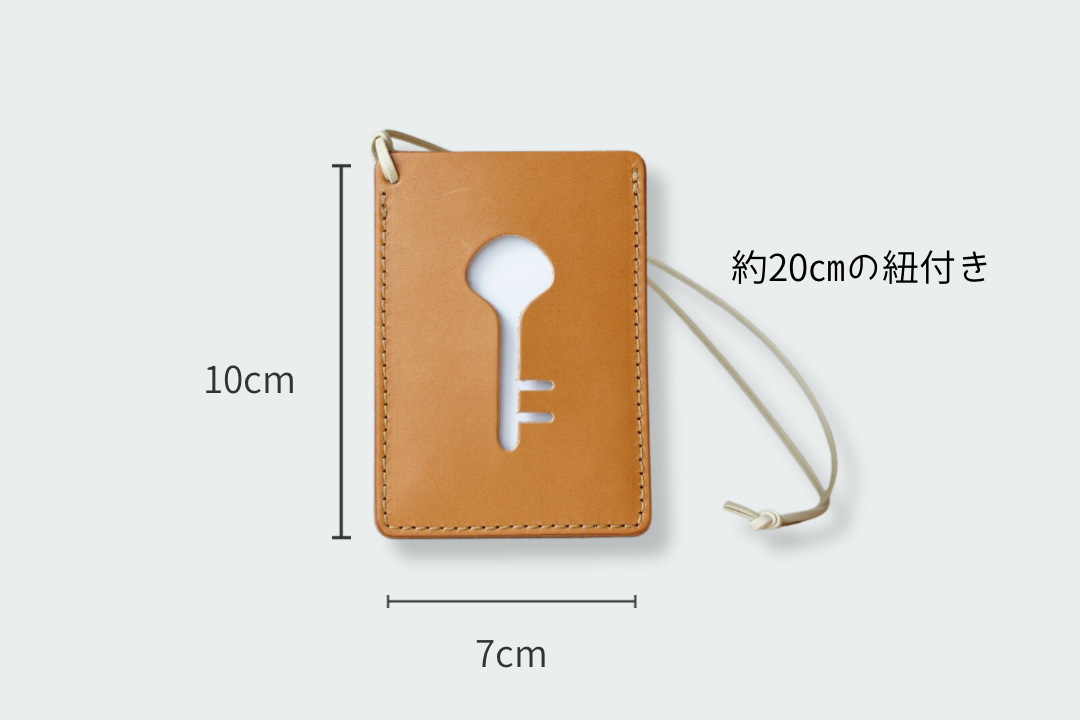 Tips for growing leather products
take care of

Regular use of leather wax will prevent moisture and dirt/fading. It also has antiseptic and insect repellent effects.

make repairs

Products manufactured at affordance can be repaired at our workshop.
After seeing your item, we will inform you of the repair method, cost, delivery date, etc.

Request for repair

I often use

As you continue to use leather products every day, the surface of the leather will become glossy, the color will deepen, and it will become familiar to the person.
Please grow your leather products as your "partner" while enjoying the changes over time.